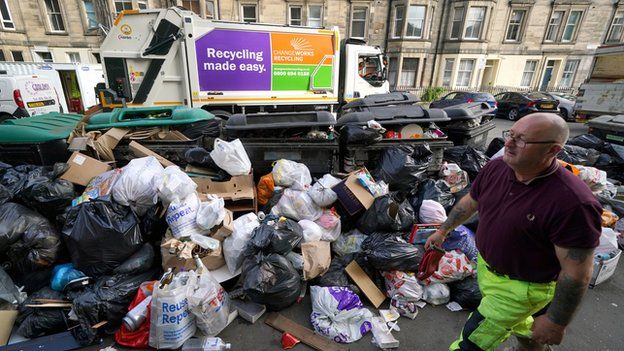 The first wave of strikes by council bin workers in Scotland has entered their final day in 13 council areas.
Unions launched industrial action on 18 August in a pay dispute with local government body Cosla.
The walkout in Edinburgh ended at 04:59 on Tuesday, but rubbish continues to pile up in other Scottish council areas, including Glasgow and Aberdeen.
On Monday, Unite, the GMB and Unison confirmed further strikes would be held after rejecting an increased pay offer.
Public Health Scotland has warned of a human health risk from overflowing waste and advised councils to decontaminate areas where bins have overflowed.
When are the next bin strikes planned?
Government 'cannot offer' more money to end strikes
Edinburgh bin workers clear up after 12-day strike
Edinburgh wakes up to the bin strike hangover
Unions had been seeking an agreement from Cosla similar to the one made to council workers in England - which included a £1,925 flat rate pay increase.
The pay dispute led to action by refuse staff at two-thirds of Scotland's councils and is also set to close schools and nurseries.
Edinburgh began the first of a series of strikes around the country after the three unions rejected an initial pay offer equivalent to a 3.5% increase.
The action escalated last week when refuse workers at a further 20 local authorities walked out despite a revised 5% offer.
A second wave of strikes is due to begin on 6 September, with hundreds of schools and nurseries also scheduled to close from 6 to 8 September. The action affecting Angus, Dundee and Perth and Kinross will take place from 7 to 9 September.
On Monday, Unite and the GMB rejected a further offer from Cosla, while Unison said it would be put to its members.
Cosla's offer of a £1,925 pay uplift matched the offer to council workers in England - but only part of this payment would be consolidated into staff salaries. The rest would be given as one-off cost-of-living payments.
Unions said this meant lower-paid staff would not benefit as much as those on higher wages.
The latest headlines from Scotland
However, after speaking to union leaders on Tuesday afternoon, Deputy First Minister John Swinney told BBC Radio Scotland's Drivetime programme there was no more money.
He explained: "I can't do that [make more money available] because people have to understand there are finite limits on the government's finances and I have already dug very deep to provide recurring funding.
"I have managed to find one-off sums of money to ensure that people on low incomes are able to get a £2,000 increase in their salary now. But the government cannot offer any more money."
Mr Swinney added that the "only other thing the government can do is cancel existing policy commitments and that will undermine some of the measures that are in place to protect people from the cost of living".
Unite industrial officer Wendy Dunsmore told Good Morning Scotland: "We are absolutely resolute that this is going to be a winter of discontent and it will escalate.
"But we are hoping against all hope that the Scottish government and Cosla will see sense and get back round the table with a proper rise for the lowest paid within local authorities.
"The offer remains unacceptable and it represents a waste of precious time."
Mark Ferguson, of Unison's local government committee, said strike action was a "last resort".