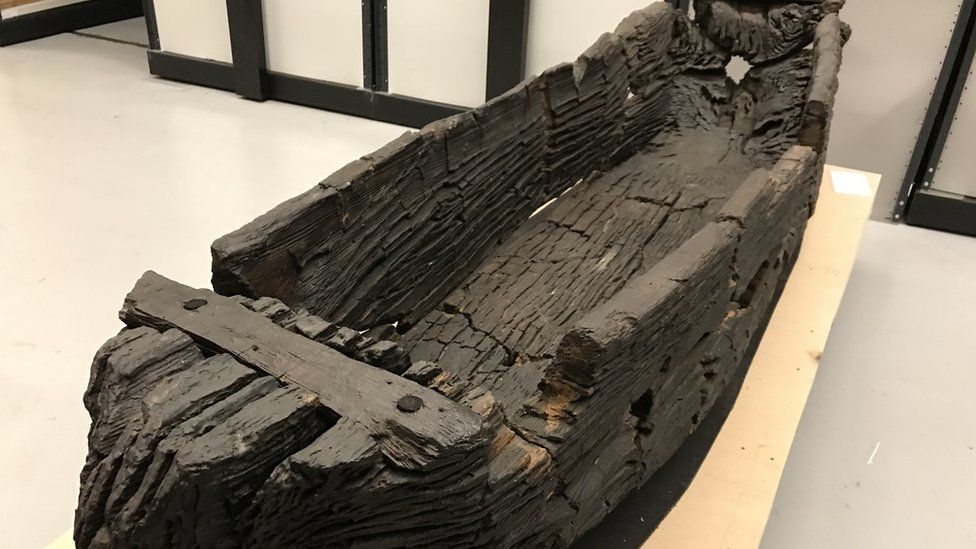 A centuries-old fishing boat which was "blown to pieces" during World War Two is set to go on public display again.
The carved wooden boat was unearthed near Giggleswick Tarn in North Yorkshire in 1863 and was subsequently donated to Leeds City Museum.
But after the museum was bombed in 1941, the boat was shattered into 45 pieces.
It has since been carefully reconstructed and is now going on display at the Leeds Discovery Centre.
Kat Baxter, Leeds Museums and Galleries curator of archaeology, said: "This remarkable vessel survived more than half a millennium buried underground before being all but destroyed by an air raid which devastated the museum and its collection.
"To see it today, preserved and reassembled in such incredible condition is a humbling experience which really brings home the centuries of history which are all around us and beneath our feet.
"Once it's on display, the boat will allow our visitors to find out more about the legacy and craftwork shaped by the hands of our ancestors and to imagine what life was like for the person who once sat inside it centuries ago and fished in the waters of Yorkshire," she added.
The Leeds Discovery Centre, which houses over one million objects in a state-of-the-art storage facility, is part of Leeds Museums and Galleries.
It is free to visit by appointment.