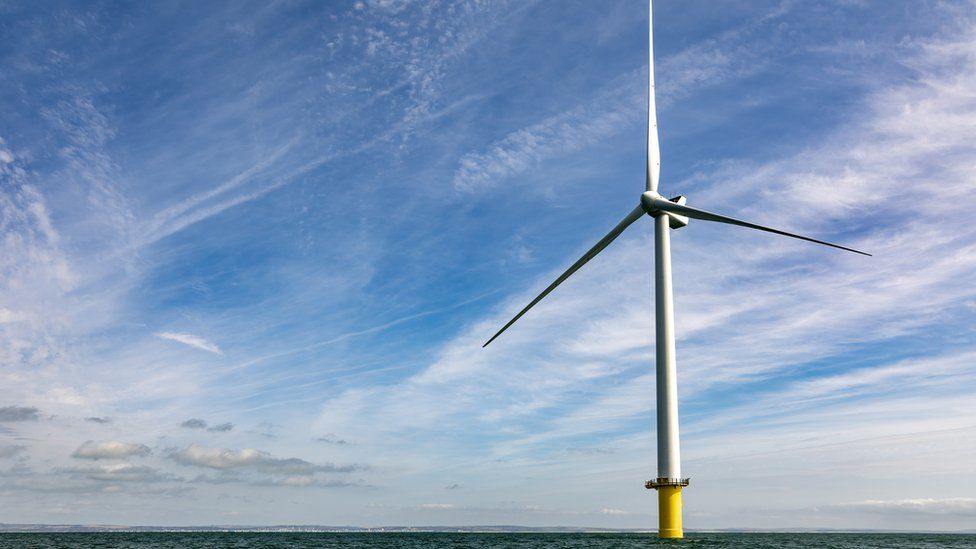 The UK would be paying "billions" of pounds less for its energy, if it had stuck with plans to reduce fossil fuel use, an energy boss has said.
Greg Jackson, chief executive of Octopus energy, told the BBC there should be a concerted push now.
The same "sense of urgency" should be applied to the switch to green energy, as there was for finding a Covid vaccine, he said.
The government said it had delivered a 500% increase in renewables since 2010.
"Without the clean energy we have deployed over the past decade, bills would be even higher today," a spokesperson for the Department for Business, Energy and Industrial Strategy (BEIS) said.
There were already plans to invest further in renewables, BEIS said.
In 2013, the coalition government led by David Cameron made a series of changes, including cutting back support for energy efficiency and later ended subsidies for onshore wind.
"If we hadn't done that, energy bills this year would be billions of pounds lower than they are," Mr Jackson told the Big Green Money Show on BBC Radio 5 Live.
"It's short term behaviour that has left us even more exposed than we need to be."
Octopus Energy generates electricity from renewable sources, including wind and solar and supplies energy to three million UK customers.
A report earlier this year by energy analysis site Carbon Brief said bills in the UK were nearly £2.5bn higher than they would have been if climate policies had not been scrapped over the past decade.
"We now need to get on with it, and going green will not only help prevent the catastrophic climate change we see already changing weather patterns, but will also drive energy costs down," Mr Jackson said.
Plans to cut energy bills if peak-time use avoided
Energy customers can't carry cost of war, says boss
Energy boss's plan to stave off bills crisis
Mr Jackson said he believed the process of creating new renewables could be speeded up significantly.
This is because it was the planning, consent and connection to the grid that took several years, while the engineering of a new wind turbine could be done in a year.
"In the pandemic we took that normal fifteen year process for producing and licensing a vaccine and we did it in a year.
"If we were to act with the same sense of urgency, we could let communities who want it have access to cheap energy quickly enough to make a difference," he said.
Some customers who have signed up to green energy suppliers have questioned why their bills aren't already lower than the typical bill, when the cost of generating electricity through renewables is lower than using fossil fuels.
But the price of electricity is currently determined for the whole market by the cost of gas because it is the most expensive form of generation.
Mr Jackson said if the UK moved towards a situation where renewables provided the bulk of energy needs and gas was "a gap filler", then the link between the gas and electricity prices could be addressed.
However, it would take several years, before increased renewable generation had an impact on prices for consumers, according to energy analyst David Cox.
"It's a bit of a dream," he said. "To increase wind power, which is the only one you could build quickly, is five to 10 years away before you have a significant contribution.
"That's assuming you can get the parts and the steel, and the cost of that is going to go through the roof because of the cost of gas."
Subsidising energy efficiency measures, such as home insulation, would be a faster way to reduce gas use and bring down bills, Mr Cox said.